Roethler Named Third Team Scholar All-American
Dec 18, 2019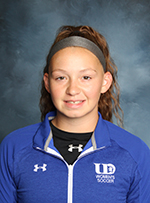 KANSAS CITY, Mo. – University of Dubuque women's soccer student-athlete Victoria Roethler continues to pick up postseason accolades, being named Third Team Scholar All-American by the United Soccer Coaches on Wednesday.
To be eligible for scholar all-region honors, a student-athlete must have a cumulative grade point average of 3.30 or higher through their career and start at least 50% of their games.
Roethler, who hails from Cedar Rapids, Iowa, has been stellar on and off the field during the first three years of her career, accumulating a grade point average of 3.67, while majoring in physical education teaching K-12.
"This is an amazing honor for Tori! This award really shows her hard work in the classroom along with her accomplishments on the soccer field," said UD Head Coach Jason Berna. "We are all very proUD of Tori becoming the programs first United Soccer Coaches Academic All-American!"
In the Spartans 12-5-2 season, Roethler started all 19 games and amassed 67 saves in 1698:23 minutes of action. Roethler allowed just 20 goals for an average of 1.06 per game and led the American Rivers Conference with eight shutouts recorded.
For the 2019 season, Roethler was honored with First Team All-American Rivers Conference, Academic All-Conference, United Soccer Coaches First Team All-North Region, and United Soccer Coaches First Team Scholar All-North/Central Region, to go along with the Scholar All-American honors.