Men's Soccer Draws with Simpson, 0-0
Oct 26, 2019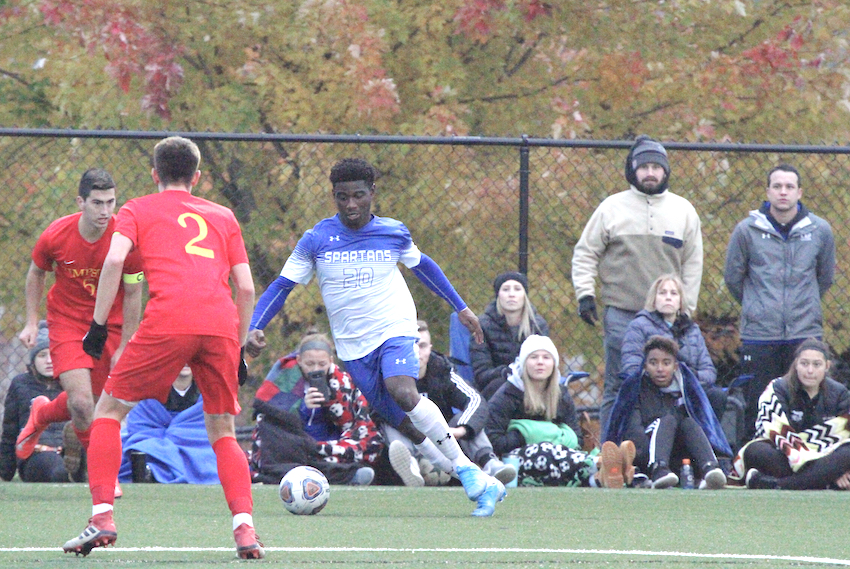 ‌
DUBUQUE, Iowa - In a battle of teams that came into the game with 4-2 records in the American Rivers Conference, the University of Dubuque men's soccer team and Simpson Storm played to a scoreless draw.
UD 1, Simpson 0
How It Happened
-In the first five minutes of play, it was the Spartans who were the aggressor, getting two great looks off the feet of Mathias Ericsson and Axel Aaman but both were deflected away by the Simpson goalkeeper.
-Simpson and Dubuque combined for 15 shots in the first half, with the Storm having the slight edge at 8-7, but no shots for either team found the back of the net.
-Neither team had a shot on goal in the second have until Simpson took a hooking shot from over 25 yards out but Brandon White would corral the shot without any issues.
-For the second consecutive game, the 90 minutes would not be enough, sending the game into overtime. However, this one was much different than on Wednesday with this one being scoreless.
-A Storm player got loose on the right side of the field with two minutes remaining in the first overtime and fired a rocket of a shot but just as he had done all game, Brandon White knocked it down for the save.
-The Spartans best look of the second half and any overtime came off the foot of Axel Aaman, whose shot from 10 yards out was deflected just wide right of the net.
-Neither team would be able to find the back of the net in either overtime and the game ended in a 0-0 tie.


For the Spartans
Goalie: Brandon White: 110:00, 0 GA, 6 Saves
Scorers: none
For Simpson
Goalie: Jake Potratz: 110:00, 0 GA, 4 Saves
Scorers: none
Up Next
The Spartans wrap up the regular season at home on Tuesday, Oct. 29th, against Coe College at 7:30 p.m.