Men's Basketball Season Ends Abruptly
Feb 22, 2020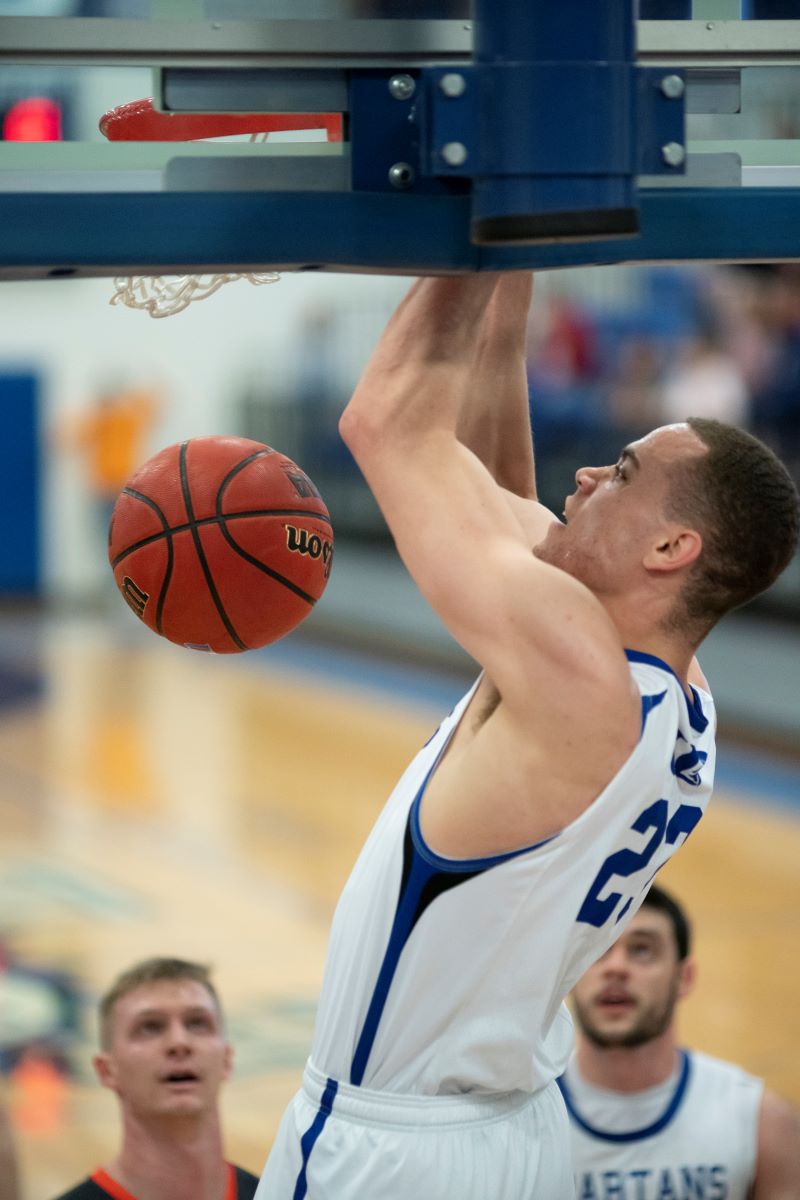 DUBUQUE, Iowa - The University of Dubuque men's basketball team was seeking a fifth place seed in the 2020 American Rivers Conference Tournament on Saturday. Unfortunately, UD found themselves knocked out of a spot in the tournament after a tough senior day loss to the Wartburg College Knights by an 81-92 final score. A simpson victory over Buena Vista shuffled the standings leaving UD wondering what happened. The Spartans needed two wins in their final five games to continue their season, but a 1-4 finish would prove fatal. UD would finish 14-11 overall and 7-9 in the A-R-C.
Senior Avery Butler would be held to just six points after getting in early foul trouble and Senior Henry Thompson also was kept in check with just four points on Senior Day on Jon Davison Court in Stoltz Sports Center. Mitch Burger led UD's offense with 19 points, Peter Ragen added 17 points, and freshman Carter Stevens finsihed with 12 points.
Three Spartans would end the season averaging double digit scoring: Burger-15.6 ppg, Ragen-15.3 ppg, and Butler-10.3 ppg. As a team UD averaged 81.9 points per game and 38.6 rpg.
TEAM STATISTICS                  DBQM          OPP
 --------------------------------------------------
 SCORING.................         2048         2024
   Points per game.......         81.9         81.0
   Scoring margin........         +1.0            -
 FIELD GOALS-ATT.........     706-1596     723-1559
   Field goal pct........         .442         .464
 3 POINT FG-ATT..........      254-729      203-594
   3-point FG pct........         .348         .342
   3-pt FG made per game.         10.2          8.1
 FREE THROWS-ATT.........      382-511      375-516
   Free throw pct........         .748         .727
   F-Throws made per game         15.3         15.0
 REBOUNDS................          966          906
   Rebounds per game.....         38.6         36.2
   Rebounding margin.....         +2.4            -
 ASSISTS.................          301          320
   Assists per game......         12.0         12.8
 TURNOVERS...............          340          324
   Turnovers per game....         13.6         13.0
   Turnover margin.......         -0.6            -
   Assist/turnover ratio.          0.9          1.0
 STEALS..................          131          175
   Steals per game.......          5.2          7.0
 BLOCKS..................           77           49
   Blocks per game.......          3.1          2.0
 ATTENDANCE..............         6896         5158
   Home games-Avg/Game...       12-575       11-428
   Neutral site-Avg/Game.            -        2-222

 SCORE BY PERIODS:           1st  2nd    Total
 -------------------------  ---- ----     ----
 Dubuque..................   932 1116  -  2048
 Opponents................  1002 1022  -  2024