Four Spartans Make A-R-C Men's Soccer All-Conference Teams
Nov 6, 2019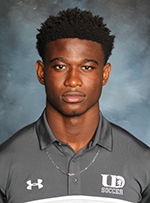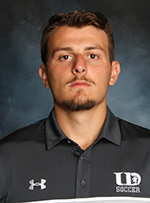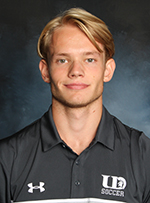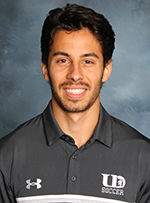 CEDAR RAPIDS, Iowa – Four University of Dubuque men's soccer student-athletes picked up 2019 All-American Rivers Conference on Wednesday with Brandon White and Gloire Luwara getting all-conference honors and Josh Merkel and Lucas Von Braun earning honorable mention.
Gloire Luwara (Rock Island, Ill./Rock Island) picked up all-conference honors for the first time in his career on Wednesday. In his sophomore campaign, Luwara led the team with nine goals and 43 shots. His nine goals are tied for the eighth most in the conference and his 43 shots are seventh most in the A-R-C. Of his nine goals, four went as game winners for the Spartans, the third most in the conference but he played two less games than the two ahead of him on the leaderboard.
After earning honorable mention all-conference honors as a freshman in 2017, Brandon White (Minooka, Ill./Minooka) is back on the all-conference list as a junior. White started all 18 games in the net for the Spartans in 2019 for a total of 1684:05 minutes. White surrendered just 21 goals over the 18 games for the fifth best goal against average in the conference with a mark of 1.122. The junior from Minooka, Illinois, finished the season with the third most saves per game at 4.17 with 75 saves total. White produced a staggering nine shutouts, the most of any American Rivers Conference goalkeeper.
Lucas Von Braun (Stockholm, Sweden/Nacka) and Josh Merkel (Streamwood, Ill./Bartlett) were two of 13 student-athletes to earn honorable mention recognition. Von Braun stared and played all 18 games of his freshman season, recording two assists in the process. Merkel, the junior captain, also started all 18 games. Merkel recorded three goals, all of which came as penalty kicks, and two assists for eight points, the second most on the team.
The two combined helped hold down the Spartan defense, limiting opposing team to just 1.17 goals per game and only 21 goals total, always keeping the Spartans in the game. The 1.17 average is the fifth best of all conference teams.