Football Dominates #23-Ranked Central College Dutch
Oct 12, 2019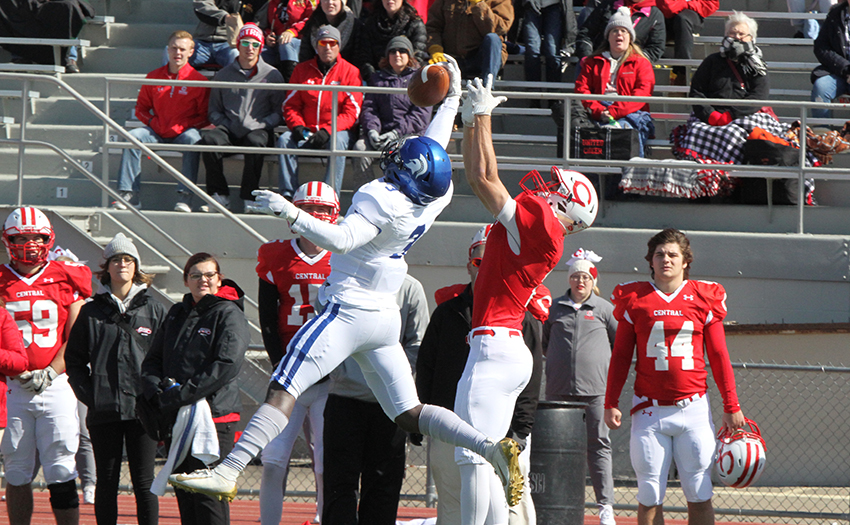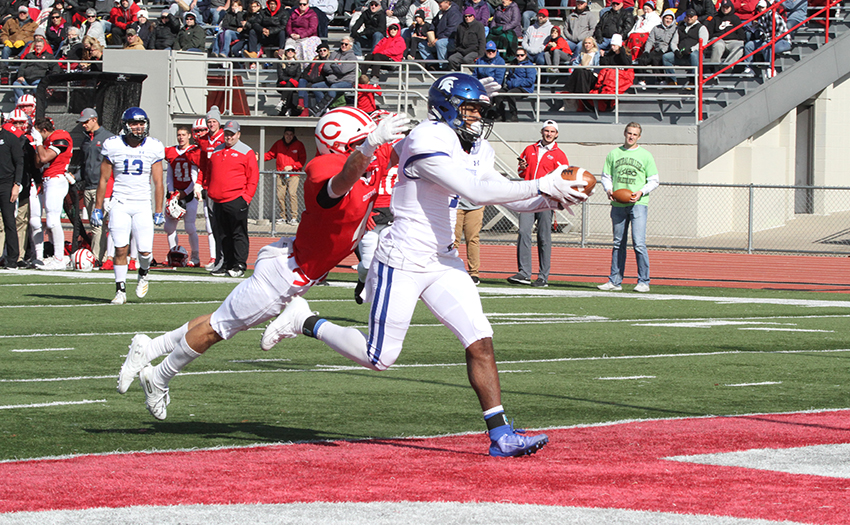 PELLA, Iowa - The start to the University of Dubuque football season faced one of the toughest schedules in the country, when they faced their third top-ranked team in their sixth game of the season. UD lost to #4 UW-Whitewater, lost to #14 Wartburg and Saturday they played a complete game and dominated the host and #23-Ranked Dutch after a convincing 28-7 victory in Pella. Head Coach Stan Zweifel has five of the schools 21 victories over the Dutch and outscored Central 180-89 in those five wins. Moco Mercer (1939-1961) holds the all-time wins record against the Dutch with 10 wins in his 21 seasons.
The Spartans carried a 14-0 lead into halftime and held the Dutch to zero third down conversions in the first half of action. The complete game for the Spartans was shown as they held possession for nearly 40 minutes of the game. Strong windy conditions hampered both teams, but the Spartans would take advantage of the five interceptions thrown by the Dutch with two to UD's Josh Ezekiel.
Chad Marsh led with six tackles, a quarter would each have four tackles in the victory. The defense would add three sacks after holding Central to just eight first downs in the game and the Dutch had 114 yards rushing and 113 yards through the air. Central's Blaine Hawkins completed just 9-23 pass attempts.
Quarterback Sean Duffy finished the day completing 27-37 pass attempts for 265 yards and three touchdowns to Emanuel Jenkins. Jenkins scored twice in the second quarter at 14:18 on a 15 yard pass, at 2:21 off an 11 yard pass, and at 4:40 of the third with a 20 yard grab. UD extended the lead to 28-0 after Eli Webster scored on a 22 yard run at 14:15 of the final quarter. The Spartan back-up defensive unit would allow a late score on a Hawkins one yard scamper for their lone points of the day at 4:14 in the fourth quarter.
Kordell Stillmunkes would lead the ground attack with 24 carries for 51 yards. Webster ended with 11 carries for 31 yards. Jenkins led all receivers with nine catches for 109 yards. Special teams Andy Vujnovich punted six times for 247 yards with his lingest being from 61 yards and he placed two inside the 20 yard line and now has nine placed inside the 20 yard line and five punts over 50+ yards this season. He also has made 16-17 extra points in 2019.
The Spartans (2-2 in A-R-C, 3-3 overall) will play host to the Loras College Duhawks (1-2 in A-R-C, 2-3 overall) for Homecoming and the Key City Clash at 2:00 p.m. Loras won Saturday 56-21 over the Luther College Norse (0-4 in A-R-C, 0-6 overall).