Cross Country Battle Tough Conditions at A-R-C Championships
Nov 3, 2019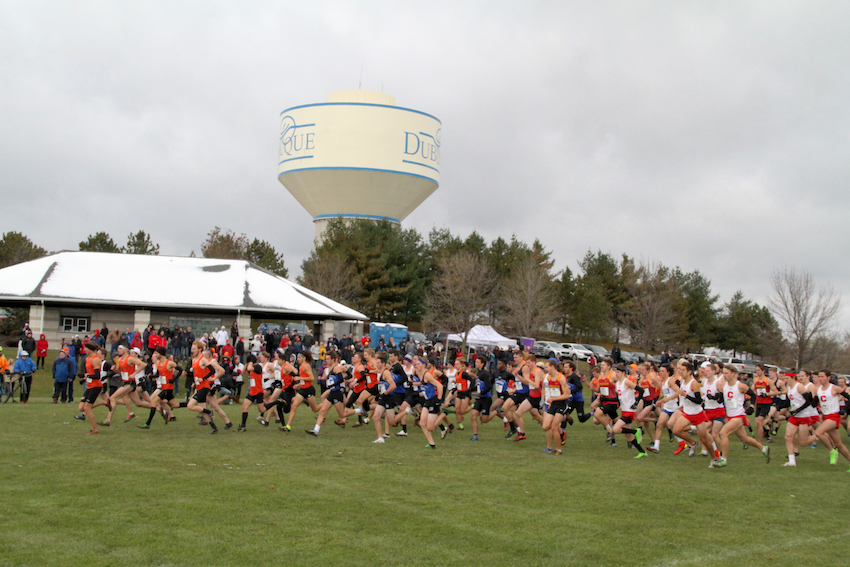 DUBUQUE, Iowa - The University of Dubuque played host on Saturday for the 2019 American Rivers Conference Cross Country Championships at the Dubuque Soccer Complex. Unfortunately, the Dubuque area received over nine inches of snow the final four days of October and turned the prestine fields into a wet, muddy mess for the runners. The temperature at the start of the race was a chilly 37 degrees with a constant wind from the southwest at around 15-20 mph. Coach Rich Melaniak spent countless hours attempting to overcome mother nature in Iowa, but Friday night it was decided to alter the men's 8000 meter course and shorten the women's race to 5,000 meters.
Given the muddy conditions it's hard to call the Wartburg cross country teams' performances "clean" sweeps, but a sweep it was. The first race of the day was the men's and the Knight's team was completely dominant with just 19 points, the lowest since 2002, 39 points better than second-place Luther, while the women were a comfortable 23 points better than the second-place Norse. Wartburg's men's title was its second-straight. The women won the conference championship for the first time since 2014.
UD's men placed seventh overall with 216 points and were led by Mark Biechler, who finished 36th in 28:44.7. Other Spartans finishers included: Tyler Cernohaus (56th-29:21.3), Joseph Tobin (57th-29:23.4), Jayden Oshirak (85th-30:11.2), Jacob Heittler (96th-30:12.9), Tavian Rumple (106th-30:52.2), Michael Orcutt (112th-31:02,3), Noah Foley (136th-31:45.5), and Jordan Morrow (146th-32:17.2)
The Spartans women's team placed ninth overall with 245 points. It was sophomore Lucy Syverson pacing UD with a 65th place finish in 22:53.9, she led a trio of Spartans with teammates senior Isabella Mazzanti completing the race in 69th place in 23:01.0 and freshman Stacy Kloft 78th on 23:19.2. Other Spartan runners included:Mackenzie Helgemoe (89th-23:42.2), Bailey Hammerand (104th-24:28.0), Katie Eden (115th-25:15.6), Megan Ely (116th-25:24.3), Nicole Fehns (118th-25:45.8), and Danielle Johnsen (131st-26:17.1).

Wartburg head coach Ryan Chapman and assistant Phil Spitzer were voted Coaching Staff of the Year on both the women's and men's sides. The women's award was Chapman's first, while the men's honor is his second-straight. Chapman and the Wartburg cross country community will host the NCAA Division III Central Region Cross Country Championships two weeks from today in Waverly.

The NCAA Division III Central Region Championships began at 11 a.m. on Wartburg's Max Championship Cross Country Course on Saturday, November 16. The NCAA Division III Cross Country Championships will be run Saturday, November 23 in Louisville, Ky., with Spalding University and the Louisville Sports Commission as the hosts.