Big Second Half Propels Men's Soccer Over Coe
Oct 29, 2019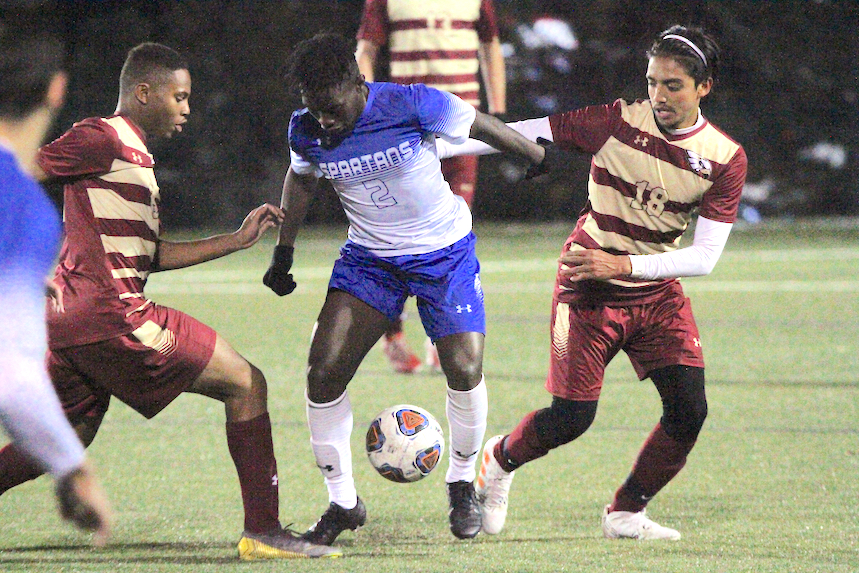 DUBUQUE, Iowa – The University of Dubuque men's soccer team dominated the second half with three goals in the final 45 minutes to take down Coe, 3-0 and clinch a home game in the first round of the American Rivers Conference Tournament on Saturday.
UD 3, Coe 0
How It Happened
-The Spartans put the pressure on the Kohawks early. In the 10th minute, Johnny Mueller sent a rocket of a free kick, that looked like it was ticketed for the top part of the back of the net but it was punched away by the Coe goalkeeper. The free kick led to three straight corner kicks, however, the Spartans came away empty on their first scoring chances.
-The Spartans controlled the pace of play in the first half, controlling the ball 57% of the time and outshout the Kohawks by a staggering 14-2 margin but the game was still 0-0 after the opening 45 minutes.
-UD finally broke the scoreless tie in the 69th minute when a Joel Johansson shot was deflected by the Coe goalie, right to the feet of Gloire Luwara, who tapped it home for the easy goal.
-In the 76th minute, UD took advantage of a Coe penalty in the box and Josh Merkel pounded home a penalty shot to give the Spartans some breathing room.
-Just 35 seconds later, Alessandro Corrazina found Joel Johansson in the middle of the box, who found the back of the net for the commanding 3-0 lead.
For the Spartans
Goalie: Brandon White: 85:22, 0 GA, 2 Saves
-Hugo Eriksson: 4:38, 0 GA, 0 Saves
Scorers: 69' Gloire Luwara, 76' Josh Merkel (PK), 77' Joel Johansson
For Coe
Goalie: Connor Teget: 76:10, 3 GA, 7 Saves
-Jesus Mancha: 13:50, 0 GA, 3 Saves
Scorers: None
Up Next
With the win and a Luther loss on Tuesday night, the Spartans earned the fourth seed in the American Rivers Conference Tournament and will host Luther on Saturday, Nov. 2nd