Barista Named Nominee for Seventh Annual Cliff Harris Award
Dec 16, 2019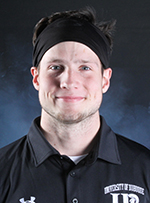 LITTLR ROCK, Ark. - The Little Rock Touchdown Club and Wright Lindsey Jennings announces the nominees for the seventh annual CLIFF HARRIS AWARD. This award is presented to the nation's top small college defensive player representing more than 5,000 defensive players from almost 500 NCAA Division II, Division III and NAIA colleges and universities. A prestigious selection committee made up of former college and pro football greats will select the winner. In addition to the CLIFF HARRIS AWARD overall winner, the top vote getter from each division will also be announced.
The University of Dubuque's Blaze Barista (SR., DB, Wheaton, Ill./Wheaton-Warrenville South High School) has been named a nominee for the prestigious Cliff Harris Award. Barista was named an American Rivers Conference First Team All-Conference award winner and is up for AP All-America consideration for the Spartans. UD's Michael Joseph won the Cliff Harris Award in 2017, he was the first Division III student-athlete to be honored with the award and remains the only Division III nominee to have claimed the trophy.
Finalists for the award will be released in one week and the CLIFF HARRIS AWARD winner will be announced on Dec. 23 and honored at the Little Rock Touchdown Club's annual awards banquet on January 9, 2020. The winner will receive the $3,000 CLIFF HARRIS AWARD trophy presented by Cliff Harris along with featured speaker Archie Griffin. Previous winners include Pierre Desir, Lindenwood University, Darius Allen, Colorado State University-Pueblo, Marqui Christian, Mid-Western State University, Connor Harris, Lindenwood University, Michael Joseph of University of Dubuque and Corey Ballentine of Washburn University.
Cliff Harris added, " I'm extremely excited about the opportunity to recognize the most outstanding defensive players from small colleges across the country. As a small college player myself, I always understood that recognition and respect for outstanding play was more difficult to attain compared to players from larger schools. Because of this I relied on perserverance and mental toughness to help me play my best even when it wasn't recognized. This enabled me to succeed at every level including the NFL and five Super Bowls. I'm honored that this award looks to recognize those players that may not receive the acknowledgement and accolades deserved because they represent small colleges. My hope is that the award will provide these players with added confidence and the appropriate distinction of being one of the best defensive players in the country regardless of the level of football they play."