Barista Named AFCA Second Team All-America for Spartans Football
Dec 4, 2019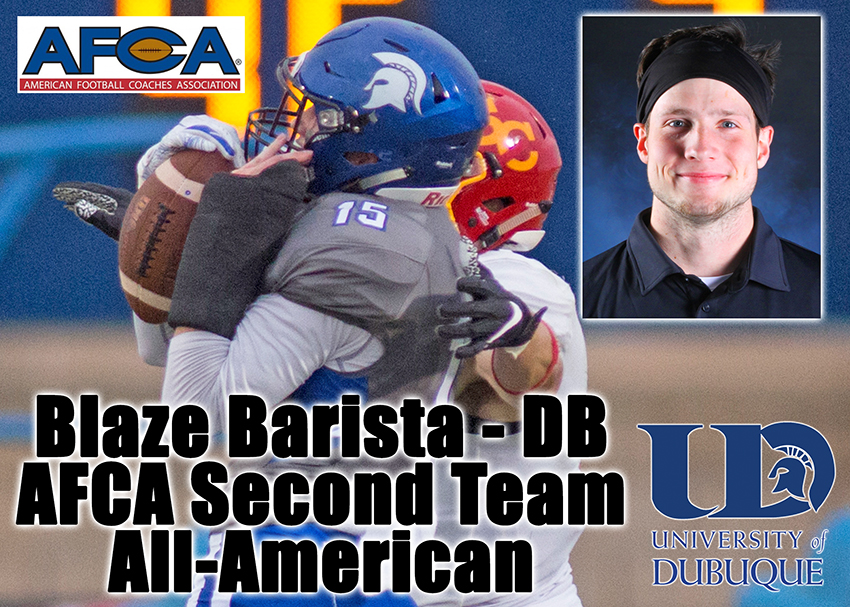 WACO, Texas - The University of Dubuque's Blaze Barista (Sr., DB, Wheaton, Ill./Wheaton-Warrenville South H.S.) earned American Football Coaches Association (AFCA) Second Team All-America honors for head coach Stan Zweifel.
The AFCA has selected an All-America team since 1945 and currently selects teams in all five of its divisions. What makes these teams so special is that they are the only ones chosen exclusively by the men who know the players the best — the coaches themselves. The AFCA's Division III All-America Selection Committee is made up of head coaches representing each conference from each of the AFCA's eight districts, one of whom serves as a district chairman, along with another head coach who serves as the chairman of the selection committee. The coaches in each district are responsible for ranking the top players in their respective districts prior to a conference call between the district chairmen and the committee chairman on which the team is chosen.
Barista was also one of the eight All-American Rivers Conference selections for the Spartans. He earned second team all-conference honors as a junior in 2018, and capped his career with first team honors for his play in his senior campaign. In 2019, Barista topped the chart for the most passes defended in the conference with 21, three of which were interceptions. His three interceptions, were tied for the most on the team with Josh Strauss and Josh Ezekiel. In his 10 starts, Barista racked up 17 solo tackles and eight assists.
The Spartans ended the season on a six game winning streak to finish 7-3 overall and 6-2 in the American Rivers Conference to finish in third place. UD ranked #4 in the country in team passing efficiency defense with 92.59 and ranked 9th in passes intecepted with 18 in 2019.
2019 AFCA Division III Coaches' All-America Team – First Team
Offense
| Pos | Name | Ht. | Wt. | Cl. | School | Coach | Hometown (High School) |
| --- | --- | --- | --- | --- | --- | --- | --- |
| QB | *Jackson Erdmann | 6-4 | 215 | Sr. | St. John's (Minn.) | Gary Fasching | Rosemount, Minn. (Rosemount) |
| RB | Wesley Schools | 5-11 | 190 | Sr. | Grove City (Pa.) | Andrew DiDonato | Port Jervis, N.Y. (Port Jervis) |
| RB | Robert Shufford | 5-7 | 170 | Jr. | Birmingham-Southern (Ala.) | Tony Joe White | McKenzie, Ala. (McKenzie) |
| WR | Justin Hill | 6-0 | 195 | Sr. | Mount Union (Ohio) | Vince Kehres | Circleville, Ohio (Circleville) |
| WR | Andrew Kamienski | 6-0 | 181 | Jr. | North Central (Ill.) | Jeff Thorne | Pingree Grove, Ill. (South Elgin) |
| TE | Jacob Maher | 6-4 | 230 | Sr. | Framingham St. (Mass.) | Tom Kelley | Marshfield, Mass. (Marshfield) |
| OL | Joe Krall | 6-4 | 300 | Sr. | Monmouth (Ill.) | Chad Braun | New Berlin, Ill. (New Berlin) |
| OL | Quinn Meinerz | 6-3 | 320 | Jr. | Wisconsin-Whitewater | Kevin Bullis | Hartford, Wis. (Hartford Union) |
| OL | Jordan Patti | 6-0 | 285 | Sr. | Ferrum (Va.) | Rob Grande | Moneta, Va. (Staunton River) |
| OL | Zach Smith | 5-10 | 264 | Sr. | Hope (Mich.) | Peter Stuursma | Suttons Bay, Mich. (Suttons Bay) |
| OL | Nic Vetter | 6-4 | 290 | Sr. | Wartburg (Iowa) | Rick Willis | Hampton, Iowa (Hampton Dumont) |
Defense
| Pos | Name | Ht. | Wt. | Cl. | School | Coach | Hometown (High School) |
| --- | --- | --- | --- | --- | --- | --- | --- |
| DL | Frankie Feaster | 6-2 | 240 | Sr. | Muhlenberg (Pa.) | Nate Milne | Montvale, N.J. (Bergen Catholic) |
| DL | Dallas McRae | 6-0 | 261 | Sr. | Wheaton (Ill.) | Mike Swider | Crown Point, Ind. (Diamond Ranch Academy) |
| DL | Tim Ousley | 6-1 | 250 | Sr. | Muskingum (Ohio) | Erik Ieuter | McArthur, Ohio (Vinton County) |
| DL | Jordan McInerney | 6-5 | 215 | Sr. | Lake Forest (Ill.) | Jim Catanzaro | Libertyville, Ill. (Libertyville) |
| LB | Re'Shaun Myers | 5-11 | 237 | Sr. | Bridgewater (Va.) | Michael Clark | Ringgold, Va. (Dan River) |
| LB | Tevin Jones | 6-0 | 220 | Sr. | Mary Hardin-Baylor (Tex.) | Pete Fredenburg | Belton, Tex. (Belton) |
| LB | Emmett Forde | 5-9 | 195 | Jr. | Hobart (N.Y.) | Kevin DeWall | South Boston, Mass. (Catholic Memorial) |
| DB | *Danial Shelton | 5-11 | 190 | Sr. | Susquehanna (Pa.) | Tom Perkovich | District Heights, Md. (Dr. Henry A. Wise Jr.) |
| DB | Peyton Haynes | 5-11 | 200 | Sr. | LaGrange (Ga.) | Earl Chambers | Old Hickory, Tenn. (Mount Juliet) |
| DB | Tramon Wiley | 5-9 | 185 | Jr. | Heidelberg (Ohio) | Scott Donaldson | Eastpointe, Mich. (Eastpointe) |
| DB | Jeff Hector | 6-0 | 185 | Sr. | Redlands (Calif.) | Mike Maynard | Palos Verdes Peninsula, Calif. (Palos Verdes Peninsula) |
Specialists
| Pos | Name | Ht. | Wt. | Cl. | School | Coach | Hometown (High School) |
| --- | --- | --- | --- | --- | --- | --- | --- |
| PK | Jon Alberts | 6-1 | 190 | Sr. | Central (Iowa) | Jeff McMartin | Huntley, Ill. (Huntley) |
| P | Alex Berg | 6-0 | 210 | Sr. | Concordia (Minn.) | Terry Horan | Moorhead, Minn. (Fargo Shanley) |
| AP | Joe Vitelli | 5-6 | 160 | Sr. | Merchant Marine (N.Y.) | Mike Toop | Warrington, Pa. (Central Bucks South) |
*-2018 AFCA All-American #-2017 AFCA All-American
2019 AFCA Division III Coaches' All-America Team – Second Team
Offense
| Pos | Name | Ht. | Wt. | Cl. | School | Coach | Hometown (High School) |
| --- | --- | --- | --- | --- | --- | --- | --- |
| QB | Broc Rutter | 6-2 | 204 | Sr. | North Central (Ill.) | Jeff Thorne | Naperville, Ill. (Neuqua Valley) |
| RB | Jaquan Hemphill | 5-11 | 185 | Sr. | Hardin-Simmons (Tex.) | Jesse Burleson | Coleman, Tex. (Coleman) |
| RB | Josh Parks | 5-10 | 202 | Sr. | St. Thomas (Minn.) | Glenn Caruso | Chisago City, Minn. (Chisago Lakes) |
| WR | Will Gladney | 6-3 | 215 | Sr. | Ithaca (N.Y.) | Dan Swanstrom | Binghamton, N.Y. (Owego Free Academy) |
| WR | Ruhann Peele | 6-2 | 210 | Sr. | Wesley (Del.) | Chip Knapp | Linden, N.J. (Linden) |
| TE | *Ryan Curtiss | 6-1 | 236 | Sr. | Muhlenberg (Pa.) | Nate Milne | Franklin Lakes, N.J. (Ramapo) |
| OL | Sharmore Clarke | 6-0 | 260 | Jr. | North Central (Ill.) | Jeff Thorne | Oak Park, Ill. (Oak Park-River Forest) |
| OL | Daniel Small | 6-5 | 280 | Sr. | Shenandoah (Va.) | Scott Yoder | Atlanta, Ga. (Dutchtown) |
| OL | Tyler Norwood | 6-5 | 295 | Sr. | Salisbury (Md.) | Sherman Wood | Milford, Del. (Milford) |
| OL | Russell Howard | 6-3 | 310 | Sr. | Cortland (N.Y.) | Dan MacNeill | New Fairfield, Conn. (New Fairfield) |
| OL | Brad Wienhold | 6-0 | 280 | Sr. | Heidelberg (Ohio) | Scott Donaldson | Madison, Ohio (Madison) |
Defense
| Pos | Name | Ht. | Wt. | Cl. | School | Coach | Hometown (High School) |
| --- | --- | --- | --- | --- | --- | --- | --- |
| DL | *Joey Longoria | 6-1 | 285 | Sr. | Mary Hardin-Baylor (Tex.) | Pete Fredenburg | Pearland, Tex. (Pearland) |
| DL | Kyle Johnston | 6-4 | 215 | Sr. | Massachusetts Maritime | Jeremy Cameron | Raynham, Mass. (Bridgewater-Raynham) |
| DL | Liam Vincifora | 5-11 | 240 | Jr. | Millsaps (Miss.) | Aaron Pelch | Covington, La. (Covington) |
| DL | Manny Longoria | 5-10 | 230 | Sr. | Texas Lutheran | Carl Gustafson | Geronimo, Tex. (Navarro) |
| LB | Logan Rickard | 6-0 | 220 | Sr. | Coe (Iowa) | Tyler Staker | Lisbon, Iowa (Lisbon) |
| LB | Mark Niles | 5-10 | 215 | Sr. | Ohio Northern | Dean Paul | Miramar, Fla. (Miramar) |
| LB | Dillon Keefe | 6-2 | 215 | Jr. | Chapman (Calif.) | Bob Owens | Orange, Calif. (El Modena) |
| DB | Raeqwon Greer | 5-10 | 185 | Jr. | Alfred (N.Y.) | Bob Rankl | Buffalo, N.Y. (Canisius) |
| DB | Eddie Graham | 5-10 | 170 | Jr. | North Carolina Wesleyan | Jeff Filkovski | Hudson, Fla. (Hudson) |
| DB | Blaze Barista | 6-3 | 195 | Sr. | Dubuque (Iowa) | Stan Zweifel | Wheaton, Ill. (Warrenville South) |
| DB | Obasi Dees | 5-10 | 160 | Sr. | California Lutheran | Ben McEnroe | Antioch, Calif. (De La Salle) |
Specialists
| Pos | Name | Ht. | Wt. | Cl. | School | Coach | Hometown (High School) |
| --- | --- | --- | --- | --- | --- | --- | --- |
| PK | Alex Raya | 6-2 | 180 | Sr. | Redlands (Calif.) | Mike Maynard | Jamul, Calif. (Steele Canyon) |
| P | *Zach Warcola | 6-5 | 200 | Sr. | College of New Jersey | Casey Goff | Mendham, N.J. (Mendham) |
| AP | Eric Pacheco | 5-11 | 180 | Jr. | Buena Vista (Iowa) | Grant Mollring | Kearney, Neb. (Kearney Catholic) |
*-2018 AFCA All-American