Barista Earns AP All-America Honors for Spartans Football
Dec 21, 2019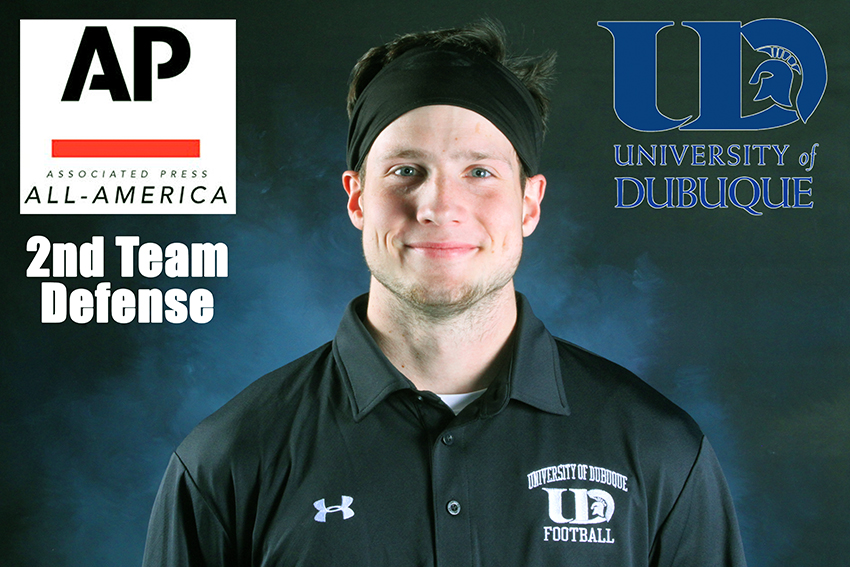 NEW YORK, N.Y. - The University of Dubuque's Blaze Barista (SR., DB, Wheaton, Ill./Wheaton-Warrenville South High School) has been named an AP All-America Second Team Defense honoree for the Spartans. Barista was named an 2019 AFCA Division III Coaches' All-America Team – Second Team (defensive back) on December 4. He was also an American Rivers Conference (A-R-C) First Team selection in 2019, after being an American Rivers Conference Second Team selection in 2018. He was one of two A-R-C student-athletes to earn AP honors in 2019.
In 2019, Barista topped the chart in Division III NCAA statistics by ranking second in the nation for the most passes defended and led in the conference with 21 (2.1 per game), three of which were interceptions. He played most of the season with a cast on his left arm, and his three interceptions were tied for the most on the team with Josh Strauss and Josh Ezekiel. In his 10 starts, Barista racked up 17 solo tackles and eight assists and blocked two kicks (ranks 28th nationally). He also ranked 10th in the nation in punt returns for a touchdown with one this season.
The Spartans ended the season on a six game winning streak to finish 7-3 overall and 6-2 in the American Rivers Conference to finish in third place. UD ranked #4 in the country in team passing efficiency defense with 92.59 and ranked 9th in passes intercepted with 18 in 2019, which was also the top in A-R-C play. UD scored 43 TD's, averaged 30.5 points a game, passed for 2,271 yards and rushed for 1,570 yards in 2019. Kordell Stillmunkes led the league in rushing 859 yards in 170 carries with nine TD's. UD's defense sacked opposing quarterbacks 25 times in 2019 for losses of 133 yards.
FIRST TEAM OFFENSE
Quarterback — Broc Rutter, senior, North Central (Ill.).
Running backs — Robert Shufford, junior, Birmingham-Southern; Ethan Greenfield, sophomore, North Central (Ill.).
Linemen — Sharmore Clarke, junior, North Central (Ill.); Quinn Meinerz, junior, Wisconsin-Whitewater; Nic Vetter, senior, Wartburg; Sean Sherman, senior, Mount Union; Dan Greenheck, senior, St. John's.
Tight end — Ryan Curtiss, senior, Muhlenberg.
Receivers — Andrew Kamienski, junior, North Central (Ill.); Justin Hill, senior, Mount Union.
All-purpose player — Willie Julkes III, senior, Concordia-Moorhead.
Kicker — Anthony Avila, sophomore, Mary Hardin-Baylor.
FIRST TEAM DEFENSE
Linemen — Frankie Feaster, senior, Muhlenberg; Dallas McRae, senior, Wheaton (Ill.); Joey Longoria, senior, Mary Hardin-Baylor; Michael Nobile, sophomore, Delaware Valley.
Linebackers — Scottie Bobeck, senior, Benedictine; Dante Capozzoli, junior, Kean; Anton Clark, senior, East Texas Baptist.
Secondary — Jeff Hector, senior, Redlands; Spencer Rowland, senior, Wheaton (Ill.); Jake Beesley, junior, North Central (Ill.); Kordell Ford, junior, Mount Union.
Punter — Zach Warcola, senior, College of New Jersey.
SECOND TEAM OFFENSE
Quarterback — Jackson Erdmann, senior, St.John's.
Running backs — Alex Minton, senior, Denison; Wesley Schools, senior, Grove City.
Linemen — Ben Bartch, senior, St. John's; Joe Krall, senior, Monmouth (Ill.); Tyler Norwood, senior, Salisbury; Ryan Malarkey, senior, Muhlenberg; Steven Sellers, junior, Mary Hardin-Baylor.|
Tight end — Dan Allen, senior, Delaware Valley.
Receivers — Ruhann Peele, senior, Wesley (Del.); Ravi Alston, sophomore, St. John's; Samuel Staehling, senior, St. Norbert.
All-purpose player — Brock Martin, sophomore, Ohio Northern.
Kicker — Jaydon Haaq, sophomore, Wisconsin-Oshkosh.
SECOND TEAM DEFENSE
Linemen — Jordan McInerney, senior, Lake Forest; Danny Pietruszewski, junior, St. John's; Tim Ousley, senior, Muskingum; Mike Williams, senior, Washington & Jefferson.
Linebackers — Mason Dekker, senior, Hope; Emmet Forde, junior, Hobart; Nick Garone, senior, Ithaca.
Secondary — Peyton Haynes, senior, LaGrange; Blaze Barista, senior, Dubuque; Danial Shelton, senior, Susquehanna; Tramon Wiley, junior, Heidelberg.
Punter — Alex Berg, senior, Concordia-Moorhead.
Panelists: Chair, Ira Thor (New Jersey City); Kevin Anderson (Dean), Kelly Bird (Linfield), Fran Elia (Cortland), Sean Farnsworth (St. John Fisher), Mark Fisher (Carnegie Mellon), Lance Franey (Whittier), Jeff Garvin (Heidelberg), Tim Glon (Ohio Northern), Chad Grubbs (Hardin-Simmons), Wes Gullett (Greensboro), Ed Habershaw (Salve Regina), Brent Harris (Wabash), Geoff Henson (Olivet), Craig Hicks (Denison), Jeff Hoedt (Trine), Jennifer Jones (Birmingham-Southern), Craig Kaufman (Amherst), Sean King (Allegheny), Brian Kipley (Aurora), Ryan Klinkner (Saint John's (Minn.)), Kevin Lanke (Rose-Hulman), Ernie Larossa (Johns Hopkins), Brian Laubscher (Washington and Lee), Chris Lindeke (UW-Whitewater), Dan Lukes (St. Norbert), Justin Lutes (Ithaca), Kathy Lynch (Framingham State), Brian Magoffin (Springfield), Brett Marhanka (Wheaton (Ill.), Paul Misner (Dubuque), Jesse Robinson (St. Scholastica), Greg Royce (Stevenson), Mike Scala (Montclair State), Clark Teuscher (North Central).