Anderson and Cain Highlight Lower Midwest Regional
Mar 1, 2020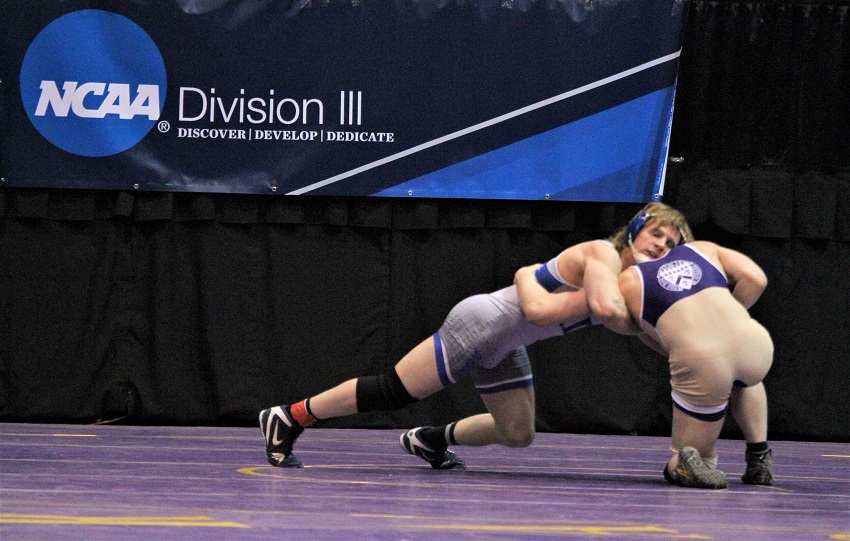 DUBUQUE, Iowa - Zarik Anderson earned the best finish of any UD wrestler at the NCAA Division III Lower Midwest Regional, earning a fourth place finish. The Spartans would also get a fifth place finish from Ethan Cain and two other place winners. However, no Spartan will be heading to the national championships.
Zarik Anderson was the first of the Spartans to take that mat in the consolation quarterfinals at 165. Anderson was taken down by North Central's Jacob Boumans with just over a minute remaining in the first period, but Anderson quickly came up with a reversal before sticking Boumans in 2:03 to stay alive.
Ethan Cain followed the script of his teammate, getting taken down in the first period to fall behind early but Cain was able to turn the fortunes with a reversal just 30 seconds later, getting Central's Gavin Babcock on his back for the fall to advance to the consolation semifinals at 197.
At 174 Tevin Bailey suffered a second period fall (4:08), while at 184 Chris Nielsen was pinned in the first period (1:23) to send them to the seventh place match.
In the consolation semifinals, Anderson did not waste any time, jumping out to a 6-0 lead through the first period after a takedown and four points from a nearfall. Cornell's Nic Jarvis chipped away to pull within 6-4 midway through the third period, but Anderson sealed the match with a takedown and two more back points in the final seconds to win 10-4 and advance to the third place match.
Cain fell behind early in his consolation semifinal, trailing 4-1 after one period, before he was pinned in the second to fall to the fifth place match.
Zarik Anderson's bid of a third place finish and trip to the NCAA Championships came up just short. Anderson negated an early takedown from Loras' Eddie Smith with a reversal of his own to even it at 2-2 midway through the first, but a quick escape gave Smith the 3-2 lead after one. Anderson would stay within striking distance, trailing 5-2 heading into the third and final period, but four nearfall points and another takedown for Smith was too much for Anderson to overcome as he would fall 12-3 and earn fourth place in the Lower Midwest Region.
Ethan Cain capped his career with a dominating performance. Cain took down Luther's Donovan Corn in 36 seconds and finished it off with a pin in 1:06 to secure fifth place.
In the seventh place matches, Bailey ended his season on a high note, pinning the Ozarks' Ndayambaje John in just 1:13 to grab a spot on the podium. In the 184 match, Nielsen would fall by a 4-3 decision at the hands of Wartburg's Isaiah Cox to finish the regional in eighth place.
Team Results
1. Loras, 2. Coe, 3. Wartburg, 4. North Central, 5. Central, 6. Millikin, 7. Luther, 8. Dubuque, 9. Cornell, 10. Ozarks, 11. Augustana, 12. Buena Vista, 13. Nebraska Wesleyan, 14. Westminster, 15. Simpson, 16. Huntingdon, 17. Fontbonne, 18. Macmurray
Full Results
First Round
133- Brendan Hazelton (UD) won by fall over Axel Hernandez (Buena Vista) 0-2 (Fall 3:46).
141- Dakota Unpingco (UD) won by tech fall over Alex Cruz (Augustana (IL)) 10-16 (TF-1.5 3:51 (16-0)). 165- Zarik Anderson (UD) won by fall over Dalton Cockman (Simpson) 15-8 (Fall 2:12).
184- Chris Nielsen (UD) won by major decision over Arnold Fox (Millikin) 0-1 (MD 11-1).
285- Darryl Aiello (UD) won by fall over Daniel Skold (Augustana (IL)) (Fall 0:32)
Quarterfinal –
133- Mason McMillen (Loras) won by fall over Brendan Hazelton (UD) (Fall 0:37)
141- Dan Radcliffe (Central (IA)) won by major decision over Dakota Unpingco (UD) (MD 14-2)
165- Eddie Smith (Loras) won by decision over Zarik Anderson (UD) (Dec 5-0)
184- Quarterfinal - Shane Liegel (Loras) won by major decision over Chris Nielsen (UD) (MD 14-0)
285- Duncan Lee (Central (IA)) 25-6 won by decision over Darryl Aiello (Dubuque) 20-3 (Dec 6-2)

Cons. Round 1 –
125- Aaron Black (Dubuque) won by fall over Tyler Laudick (Neb. Wesleyan) (Fall 3:55)
149 - Klayton Keller (Cornell College) won by major decision over Greg Krulus (UD) (MD 11-2)
157- Jessy Diaz (Dubuque) won by fall over Tyler Menegay (Luther) (Fall 1:17)
174- Tevin Bailey (Dubuque) won by fall over John Marsh (Cornell College) (Fall 1:12)
197 - Ethan Cain (Dubuque) 5-4 won by disqualification over Sam Mathis (Simpson) 12-16 (DQ)

Cons. Round 2 -
125- Brady Kyner (Wartburg) won by major decision over Aaron Black (Dubuque) (MD 12-3)
133- Eron Haynes (Neb. Wesleyan) won by decision over Brendan Hazelton (Dubuque) (Dec 10-9)
141- Ryan Smales (Neb. Wesleyan) won by fall over Dakota Unpingco (Dubuque) (Fall 6:44)
157- Tristan Birt (Millikin) won by decision over Jessy Diaz (Dubuque) (Dec 7-6)
165- Zarik Anderson (Dubuque) won by fall over Parker Preul (Buena Vista) (Fall 2:34)
174- Tevin Bailey (Dubuque) won by tech fall over Shyler Langley (Simpson) (TF-S 2:41 (16-0))
184- Chris Nielsen (Dubuque) 7-4 won by fall over Diego Escarcega (Buena Vista) 1-2 (Fall 2:21)
197- Ethan Cain (Dubuque) 6-4 won by fall over Ben Bergen (North Central (IL)) 28-9 (Fall 1:57)
285- Justin Hennessy (Neb. Wesleyan) 3-1 won by fall over Darryl Aiello (Dubuque) 20-4 (Fall 2:59)
Round 3 –
165- Zarik Anderson (Dubuque) won by fall over Jacob Boumans (North Central (IL)) (Fall 2:01)
174- Griffin McBride (Central (IA)) won by fall over Tevin Bailey (Dubuque) (Fall 4:08)
184- Josh Edel (Coe) won by fall over Chris Nielsen (Dubuque) (Fall 1:23)
197- Ethan Cain (Dubuque) won by fall over Gavin Babcock (Central (IA)) (Fall 1:04)
Round 4 –
Cons. Semi - Zarik Anderson (Dubuque) won by decision over Nic Jarvis (Cornell College) (Dec 10-4)
Cons. Semi - Logan Hagerbaumer (Millikin) won by fall over Ethan Cain (Dubuque) (Fall 4:09)
7th Place Match - Tevin Bailey (Dubuque) won by fall over Ndayambaje John (Ozarks (AR)) (Fall 1:19)
7th Place Match - Isaiah Cox (Wartburg) won by decision over Chris Nielsen (Dubuque) (Dec 4-3)
3rd Place Match - Eddie Smith (Loras) won by major decision over Zarik Anderson (Dubuque) (MD 12-3)