Softball's Featheringill and McBee Named All-Conference
May 7, 2019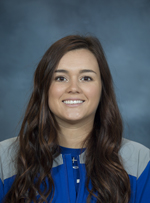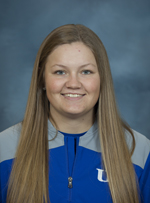 CEDAR RAPIDS, Iowa – After a record breaking season for the University of Dubuque softball team, outfielder Kaylin Featheringill was named First Team All-American Rivers Conference and pitcher Abby McBee was named Second Team All-American Rivers Conference on Wednesday afternoon.
Featheringill (Fort Madison, Iowa/Fort Madison) led the Spartans in several categories including batting average (.421), triples (3), runs scored (33) and stolen bases (17). Her .421 average was good enough for the fourth best mark in the American Rivers Conference. Featheringil set four single season school records in her junior campaign, beginning with the most hits with 64, besting the old mark of 55. She also broke the records for most runs with 33, most at bats with 150 and total bases with 88.
McBee (Norwalk, Iowa/Norwalk) had a stellar freshman campaign to earn second team honors. McBee went a perfect 8-0 in the circle, after appearing in 15 games, starting in 11 of those. McBee accumulated 60 strike outs over her 74.2 innings pitched, allowing just 15 earned runs for an earned run average of 1.41, narrowly missing the single season school record of 1.40. Her ERA of is also the best ERA in the A-R-C by .19.
2019 American Rivers All-Conference Softball Team
Position Player of the Year - Haley Jones, Coe
Co-Pitcher of the Year - Mariah Fritz, Central
Co-Pitcher of the Year - Alyssa Olson, Coe
Co-Pitcher of the Year - Maddie Rog, Wartburg
Coaching Staff of the Year - Central College
First Team School Yr. Position Hometown / High School
Mariah Fritz Central So. Pitcher Tama, Iowa / South Tama
Alyssa Olson Coe Sr. Pitcher Cedar Rapids, Iowa / Cedar Rapids Jefferson
Maddie Rog Wartburg So. Pitcher Norridge, Ill. / Maine Township South
*Samantha Bratland Luther Sr. Pitcher Spring Grove, Minn. / Spring Grove
Addy Pender Luther Sr. Catcher Johnston, Iowa / Johnston
Allie O'Brien Coe Sr. First Base Grimes, Iowa / Dallas Center Grimes
Paige Timmerman Luther Jr. Second Base Cedar Rapids, Iowa / Cedar Rapids Kennedy
Haley Jones Coe Sr. Shortstop Waterloo, Iowa / Waterloo West
*Sydney Illg Wartburg Fr. Shortstop Grimes, Iowa / Johnston
*Daria Parchert Central So. Shortstop Illinois City, Ill. / Rockridge
Ashley Lentine Loras Sr. Third Base Chicago, Ill. / Montini Catholic
Kaylin Featheringill Dubuque Jr. Outfield Fort Madiosn, Iowa / Fort Madison
Sara Tallman Central Jr. Outfield Pella, Iowa / Pella
Shaye Witte Central Jr. Outfield West Des Moines, Iowa / Waukee
Kailey Meyer NWU So. Utility Omaha, Neb. / Omaha Central
Megan Crockett Simpson So. DP Bryant, Iowa / Northeast Goose Lake
Second Team School Yr. Position Hometown / High School
Emily Bell Simpson So. Pitcher Aurora, Colo. / Cherokee Trail
Abby McBee Dubuque Fr. Pitcher Norwalk, Iowa / Norwalk
Ashley Allen Simpson Sr. Catcher Laurel, Iowa / East Marshall
Abby Gehringer Luther Jr. First Base Indianola, Iowa / Indianola
Kaitlyn Andresen Central Jr. Second Base Davenport, Iowa / Assumption
Hannah Halverson Luther So. Shortstop Janesville, Wis. / Craig
Leah Campos Wartburg So. Third Base Diamond, Ill. / Coal City
Sarah Trent Simpson So. Third Base Fairfield, Iowa / Fairfield
Morgan Shipley NWU Jr. Outfield Lincoln, Neb. / Lincoln Pius X
Sadie Baugher Central Sr. Outfield Eddyville, Iowa / Eddyville-Blakesburg-Fremont
Kelsey Hora Coe So. Outfield Ainsworth, Iowa / Highland
Madison Stoakes Wartburg So. Outfield Clive, Iowa/West Des Moines Valley
Kailee O'Brien Wartburg Sr. Outfield Altoona, Iowa / Southeast Polk
Madison Doubek Loras So. Utility Lockport, Ill. / Lockport Township
Brook Lindermann Buena Vista So. DP Gretna, Neb. / Marian
Honorable Mention School Yr. Position Hometown / High School
Annie See Luther Jr. Outfield Mount Vernon, Iowa / Mount Vernon
Kate Lesmeister Buena Vista So. Utility Omaha, Neb. / Millard West