Pair of Spartans Baseball Pitchers Earn ABCA All-Region
May 31, 2019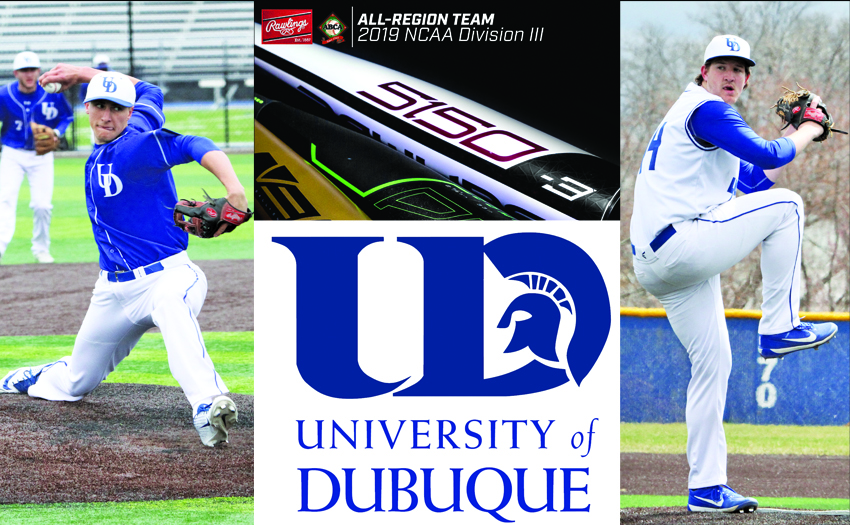 GREENSBORO, N.C. - The 2019 American Baseball Coaches Association (ABCA)/Rawlings NCAA Div. III All-Region teams and Regional Players of the Year have been announced in all eight regions. The teams are voted on by members of the American Baseball Coaches Association and the process is led by the ABCA NCAA Div. III All-America Committee. The University of Dubuque's Chase Kueter (Sr., Bellevue, Iowa/Bellevue H.S.) and Nathan Schneiderman (Sr., LHP, German Valley, Ill./Forreston H.S.) were honored as Second Team Central Region performers for the 2019 season.
The pair of seniors helped UD to the semifinals of the 2019 American Rivers Conference Tournament and finished the season with a 26-15-1 overall record. Schneiderman led the Spartans with a low 1.57 ERA after pitching 51.2 innings, he finished with 67 strikeouts and a 4-0 mark with six saves. Kueter led UD with an 8-5 record with a 2.95 ERA after tossing 94.2 innings and five complete games. He fanned 116 batters and walked just 16 this season.
ABCA/Rawlings All-Region first-team selections are nominated for ABCA/Rawlings All-America honors. The ABCA/Rawlings NCAA Div. III All-Americans will be announced the evening of Thursday, May 30. The ABCA/Rawlings Gold Glove teams for all divisions will be announced Wednesday, June 19.
The ABCA All-America team was first recognized in 1949 and now includes nine divisions: NCAA Divisions I, II and III, NAIA, NJCAA Divisions I, II and III, Pacific Association Division, and high school. ABCA/Rawlings Gold Glove teams were first recognized in 2007.
The Chair of the ABCA NCAA Div. III All-America & Coach of the Year Committee is Paul Hesse of the University of Mount Union. Also on the committee are Derek Carlson (Brandeis University), Dean Glus (The College of New Jersey), Ray Hedrick (Randolph-Macon College), Luke Johnson (North Park University), Scott Laverty (Chapman University), Corey Paluga (Elmira College) and Kevin Tomasiewicz (University of Wisconsin-Oshkosh).
The ABCA, founded in 1945, is the primary professional organization for baseball coaches at the amateur level. Its over 11,000 members represent all 50 states and 25 countries. Since its initial meeting of 27 college baseball coaches in June 1945, Association membership has broadened to include eight divisions: NCAA Division I, II and III, NAIA, NJCAA, Pacific Association Division, High School and Youth. The 76th annual ABCA Convention will be held Jan. 2-5, 2020 in Nashville, Tennessee.
2019 Central-ABCA/Rawlings All-Region Teams
NCAA Div. III Central All-Region First Team
Pos.
Player
Cl.
School
State
C
Rob Marinec
So.
North Central
IL
1B
Vince Schwartz
Jr.
Carthage
WI
2B
Bryce Rheault
Jr.
Buena Vista
IA
3B
Ben Swords
So.
Webster
MO
SS
Eric Meyer
Jr.
Spalding
KY
OF
Quenton Brownlee
Sr.
Spalding
KY
OF
Ryan Clavin
So.
Westminster
MO
OF
Mathew Putman
Sr.
Carroll
WI
DH
Truman Schmitt
Jr.
Simpson
IA
UT
John Brinkman
Jr.
Washington St. Louis
MO
P
John Howard
Sr.
Washington St. Louis
MO
P
Luke Summers
Jr.
Fontbonne
MO
P
Zach Kammin
Jr.
Coe
IA
P
Matt Mulhearn
Jr.
Webster
MO
RP
Gage Smart
Jr.
Buena Vista
IA
NCAA Div. III Central All-Region Second Team
Pos.
Player
Cl.
School
State
C
Michael Barnes
Sr.
Ripon
WI
1B
Garrett Shea
Jr.
Illinois Wesleyan
IL
3B
Cale Jamesson
Jr.
Cornell
IA
SS
Caleb Durbin
Fr.
Washington St. Louis
MO
OF
Sean Green
Sr.
Eureka
IL
OF
Jon Walters
Sr.
Millikin
IL
OF
Jeremy Quade
Sr.
North Central
IL
OF
Colton Klein
So.
Carthage
WI
OF
Nick Figus
Jr.
Illinois Wesleyan
IL
DH
Anthony DiNardo
Sr.
North Park
IL
UT
Caleb Wichman
Sr.
Cornell
IA
UT
TJ Johnson
So.
Coe
IA
P
Charlie Klemm
So.
North Central
IL
P
Chase Kueter
Sr.
Dubuque
IA
P
Nate Schneiderman
Sr.
Dubuque
IA
P
Brice Swick
Jr.
Ripon
WI
RP
Adrian Santiago
Sr.
Webster
MO
NCAA Div. III Central All-Region Third Team
Pos.
Player
Cl.
School
State
C
Luke Plunkett
Fr.
Luther
IA
C
Ranko Stevanovic
Jr.
North Park
IL
1B
Jordan Kaplan
Jr.
Coe
IA
2B
Brett Reinhart
Jr.
St. Norbert
WI
3B
John Hoevelmann
Sr.
Fontbonne
MO
SS
Garrett Saunders
Sr.
Central
IA
SS
Jake Reinhardt
Jr.
North Park
IL
OF
Payton Jancsy
Jr.
Chicago
IL
OF
Kevin DeLaney
Sr.
Coe
IA
OF
Garrett Wilson
Jr.
Spalding
KY
UT
Jordan Scrimpsher
Jr.
Elmhurst
IL
P
Sean Beaver
So.
Webster
MO
P
Michael McCraith
Sr.
Wheaton
IL
P
Quinn Gudaitis
So.
Illinois Wesleyan
IL
P
Ryan Loutos
So.
Washington St. Louis
MO
P
Adam Zuk
Jr.
Millikin
IL
P
Zach Jones
So.
Spalding
KY
RP
John Hayes
So.
Augustana
IL
Central Position Player of the Year: Bryce Rheault, Jr., 2B, Buena Vista
Central Pitcher of the Year: John Howard, Sr., Washington St. Louis