Solomon Butler Character and Courage Award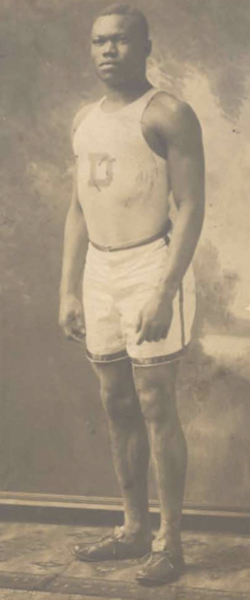 In May 2014, a new alumni/athletic award - the Solomon Butler Character and Courage Award, was introduced by Dan Runkle, Athletics Director. The award developed from a discussion regarding alumni who have been nominated for the Athletic Hall of Fame, but don't have the outstanding athletic history to be inducted into the Hall of Fame. However, sometimes these nominations have wonderful character/courage traits accompanying their athletic history. This award recognizes those individuals.
This award is named in honor of University of Dubuque alumnus and Olympian "Sol" Butler (C'19), who faced racial challenges in the early 1900's while competing as a student-athlete. This prestigious award will be presented to a former University of Dubuque student-athlete who has overcome physical limitations to compete in athletics while displaying high-moral character traits; and/or has performed heroic deed or gone above and beyond the call of duty while serving in the military, law enforcement, fire service, etc. This award will only be awarded as merit allows and not likely to be awarded on an annual basis.
Recipients of the Solomon Butler Character and Courage Award

2014
Danny Hansen
Class of 1958
2016
Rufus C. Bennett, Jr.
Class of 1992