Jerry Petitgoue Award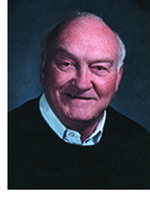 The Jerry Petitgoue Award is named after University of Dubuque graduate Jerry Petitgoue (C' 1973). This special award was established in 2012 to honor an alumnus coach who best represents Petitgoue's tenacity, strong work ethic, and care for athletes of any age, at any level.
Petitgoue, the long-time boys basketball coach at Cuba City High School in Cuba City, Wisconsin, is the winningest coach in the state of Wisconsin history with 846 wins (through the 2012-13 season). In 46 years of coaching he has won 29 conference championships including a current streak of seven consecutive titles. He has also won three state championships (1981, 1991, and 1998) and finished as runner-up in 2012. Petitgoue was inducted into the Wisconsin Basketball Coaches Association (WBCA) Hall of Fame in 2003.
Recipients of the Jerry Petitgoue Award

2013
Paul Rundquist
Class of 1996
2014
Clay Shaffer
Class of 1973
Story
2015
Jay Herkelman
Class of 1986
2016
Jon West
Class of 1973
Story
2017
Colleen Finn-Henze
Class of 1987
Story
2018
Dennis Riley
Class of 1974