Testimonials
Meet Nora Shook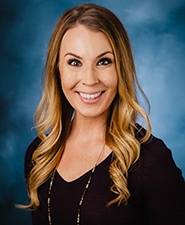 Nora is a non-traditional student who works full-time as a retail manager. She decided to seek a masters' degree because she felt it was the right time in her life to get started. Her hesitancy in getting started down this path was the thought of how the change wouldimpact her life. Nora said, "I knew that I would need to be mindful about time management between work and school. Through good preparation and a great support system, this quickly became something I realized I did not need to worry about."
When Nora learned of the Master in Management - Communication Management (MMCM) program at UD, she saw it to be the perfect fit. Juggling the demands of a full-time job and her studies, Nora has not looked back. She expressed that she is happy with her decision to get started. She said she was able to get some great work experience under her belt. Plus, she knew the MMCM degree would help further her career.
When asked about her experience with the University's MMCM program, Nora had this to say ....
"I have nothing but amazing things to say about my experience in the MMCM major. The curriculum is the perfect amount of putting practice to work by applying homework and projects into current and future work scenarios. I know that through the MMCM major, I will be fully prepared to enter into a successful career with the education, and experiences given throughout the courses. It has been a wonderful experience!"
We asked Nora if she had advice for those who are contemplating their next degree, here's what she offered,
"DO IT! Make this commitment and give it your all. It's something that might be different, challenging, or scary at first, but your life will be forever enhanced through the MMCM major and the UD campus."
We are so very proud to be a part of Nora's brave journey in seeking the MMCM degree.
---
To learn more about how you can achieve your dream of earning an MMCM, visit our website at www.dbq.edu/MMCM
If you have any questions, don't hesitate to contact us at GradStudies@dbq.edu or call 563.589.3246