Programs & Services
Life Services promotes the following student activities, events, programming, and services throughout the academic year, please contact the office for further details:
UD Counseling Team
UD CARES Team
Initial Assessment and Short-term Personal & Career Counseling
Life Coaching
Advocacy
Spiritual Counseling
Ally Training
STEP-UP Bystander Intervention Training
Mentoring Referral Services in collaboration with other offices of the Student Life Department
Referral Services to Off-Campus Programs/Services, for such issues as; Alcohol and other Substance Abuse, Anxiety, Debt Management, Depression, Eating Disorders, Gambling, LGBTQ, Pregnancy, Stress Management, and Other Concerns
Referral Services to On-Campus Depts./Programs/Services, such as; Academic Affairs, Academic Support Center, Athletics, Student Organizations, Faculty Advisors, Financial Aid, Residential Life, Campus Ministry, and Other Departments of Interest
Resources for on-campus and/or off-campus programs and services
Don't Cancel Class Program on topical areas of Life Services
Online Voluntary Screenings
Monthly Awareness & Hosted Informational Booths
Topical Professional Development Forum to promote education, safety and violence prevention - Navigating Similarities and Differences
Wellness initiatives to enhance the following six dimensions: cultural, emotional, intellectual, physical, social and spiritual
UD Cares
Mission
UD CARES mission compliments the University of Dubuque's mission. The team offers a supportive and encouraging partnership with students by linking them with appropriate resources that will allow them the opportunities to overcome barriers on their path to success as they pursue their educational goals.
What is UD CARES?

UD CARES is an early alert initiative composed of professionals from different areas of campus life who deal with students on a regular basis: Academic Support, Academic Affairs, Athletics, Finance, Security, and Student Life. The team does not discipline, but rather helps with immediate problems. All concerns remain confidential.
Referrals are made from faculty, staff, parents, other students, or from the student him/herself. Concerns may be sent via e-mail to Mr. Mike Durnin, Dean of Student Formation at MDurnin@dbq.edu (or) 563.589.3270. Mr. Durnin is the facilitator of the UD CARES Team.
Why contact UD CARES?
The team may address the following issues of concern:
Comprehensive/comprehension problems which may affect academic performance
Class attendance
Physical concerns
Difficulty with class participation
Emotional needs
Academic concerns
Time management
Roommate concerns
Uncertainty about a major
Difficulties in dealing with specific offices, faculty or staff
Suggestions or complaints dealing with individuals/systems
Other
"Campus Mom" - Undergraduate Student Resources Advisor
Unique to the University of Dubuque is the position of Undergraduate Student Resources Advisor, better known as the "Campus Mom". She is available to help students as a confidante, advisor, mentor, mediator, problem-solver, and ombudsperson.
The Campus Mom can assist with:
Homesickness
Roommate problems
Concerns or confusion about classes
Uncertainty about how to talk with an instructor
Health concerns and where to get help
Family/friend illness or death of a family or friend
Any other student concern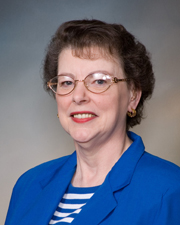 Barb Smeltzer, M.A.
Undergraduate Student Resource Advisor
208 Peters Commons
E-mail: BSmeltze@dbq.edu
Phone: 563.589.3455
Office Hours: Monday-Friday during the academic year (August - May)